Aristocrat Slot Machines
History of Aristocrat Slot Machines in Australia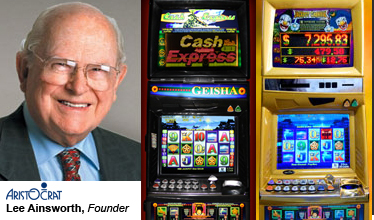 Aristocrat Leisure Limited prides itself on providing the best slot machines in Australia. Founded in the 1950s by Lee Ainsworth, the company began creating slot machines in 1953. Ainsworth later left the company to form Ainsworth Game Technology Company. While the company initially focused on making simple three real slot machines, it expanded its production to include card and slot machines games with four to seven reels and progressive machines with a shared jackpot.
The most popular game created by the company in Australia was Queen of the Nile, but if found later success with its progressive machines, including Jackpot Carnival and Cash Express. Aristocrat remained one of the top companies in Australia for a number of years because it was one of the only companies operating out of the country and because it produced new and improved games and machines. The company now ranks as one of the top slot machine producers in the world.
It is Possible to Play Aristocrat Slot Machines Online?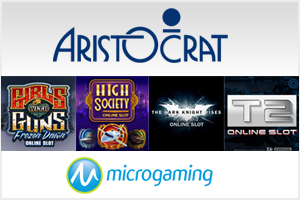 Despite the popularity of Aristocrat in Australia's past, the Interactive Gambling Act of 2001 changed the way companies could market games in the country. This Act, also known as the IGA, determined that companies could not let gamblers play games unless the company marketing those games was bonded and licensed prior to the implementation of that Act. As of 2013, only one company in the country had the right to let players bet and win real money while living in Australia, and that company does not use Aristocrat games.
Microgaming real money slot machines and pokies are available to those living in Australia, and the company makes a number of fun games based on popular topics. The company is responsible for creating The Dark Knight Rises, which uses scenes from the hit film of the same name. Other popular slot machines include Terminator 2, High Society and Girls with Guns Frozen Dawn.
Best Online Slots Casinos for Australians
Types of Online Slot Games Available for Online Australian Players

Progressive slots: Increase your odds of winning big with a progressive slot machine. With a progressive machine, a counter at the top of the machine lets you know the size of the current jackpot. Everyone playing those machines has a chance to win, and once the jackpot reaches a certain amount, one player will walk away with the cash. Cash Splash is one of the best progressive slot machines.

Multi reel slots: Traditional or classic slot machines feature three reels and only a few ways to win, but multi-reel slot machines have up to seven reels and let you win in five or more different ways. One of the top multi-reel games is 5 Reel Drive Online.

Bonus slots: With a bonus slot machine, you have the chance to unlock a bonus when you match three bonus symbols on your video screen. That bonus will often give you a small amount of money, a free spin and/or a short video clip. When you unlock a bonus in The Dark Knight Rises, you can watch a scene featuring characters from the film.

Tournament slots: Tournament slot machines pit you against other players from around the world. You usually need to pay an entry fee, but you can win much more than you paid up-front. Lara Croft Tomb Raider is a popular tournament slot that lets you play private tournament rounds, scheduled and timed rounds and tournaments that begin when several players enter the round.